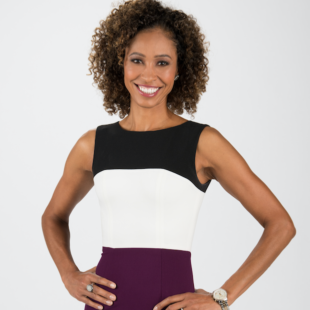 ESPN personality and SportsCenter lead host Sage Steele (BS'95) was honored on October 11 as one of six members of The Media School's eighth class of distinguished alumni.
The Distinguished Alumni Award honors former students who have become leaders in media after majoring in journalism, radio/TV, telecommunications, film and related fields through the school or its predecessors.
Steele received the Distinguished Alumni Award nod alongside retired Scripps Networks president Ed Spray (BS'63, MS'69); TV writer and producer John Rappaport ('62); Fort Wayne Journal Gazette retired editor Craig Klugman (BA'67); photojournalist Richard Horwitz (BA'63, MS'64); and journalism educator Diana Hadley, (MA'80).
Since graduating from Indiana University, Steele's accomplishments have spanned the sports media realm. After starting in 1997 as a TV producer and reporter for WSBT-TV in South Bend, she covered the Indianapolis Colts as a beat writer for WISH-TV, and reported on the IndyCar Series, NASCAR, and the 1997 Final Four as well.
Steele moved to Tampa, Fla., in 1998 to become a reporter, anchor, and host for WFTS-TV. She would become a beat reporter for the Tampa Bay Buccaneers, as well as cover the 1999 Men's Final Four. At the turn of the millennium, she joined Fox Sports Net, providing coverage into and during Super Bowl XXXV, played in Tampa in 2001.
In April 2001, Steele became the anchor for the debut of Comcast SportsNet, serving the Washington, D.C./Baltimore region. She anchored the flagship show SportsNite for six years and was also a beat reporter for the Baltimore Ravens from 2001-05, hosting a magazine show for all five seasons.
Steele's lead role for SportsCenter on the Road, which she's held since September 2016, includes on-site, day-long and pre-event coverage for the biggest sports events of the year, such as the NBA Finals, the Super Bowl, the World Series, the Masters, and the College Football National Championship.
Other distinguished alumni honored by The Media School are listed here.