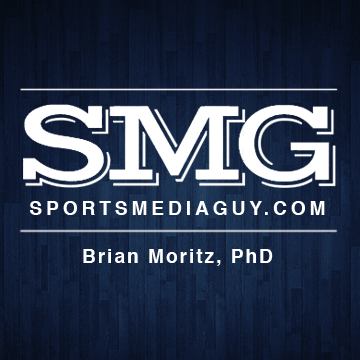 Earlier this month, Disney CEO and chairman Bob Iger some announced specifics about the ESPN standalone app that will be released this spring.
If you've read this blog for a while, you know this is news I've been waiting for. I felt coming into 2018 that this was going to be one of the biggest sports media developments of the year.
And the news left me … disappointed.
I've spent a few weeks thinking about the news to make sure my reaction wasn't a knee-jerk hot take. But after a few weeks, it still feels disappointing to me.
The app will be, in a sense, three parts: Scores, stats and news; access to ESPN's many cable channels, and the new ESPN Plus service (which is the new, over-the-top service that will run $4.99 a month). From Awful Announcing's write up:
The app will also let those who authenticate through a subscription to ESPN's cable networks (which can be through traditional cable or satellite, or through a digital MVPD) watch those networks on the go, and then it will have further live sports and other programming (including the entire 30 for 30 series) available for those who pay for the ESPN Plus service (which can be bought on its own or in addition to a cable or digital MVPD package).
(Emphasis added)
Really, the only change is the addition of ESPN Plus. The app will run like normal now – you need a cable subscription to watch the main ESPN feeds on the app. The $4.99 a month ESPN Plus is access to additional programming.
This is not the future of online sports programming. This is more of the same. You can here me and Dr. Galen Clavio struggle to make sense of this on a recent episode of The Flip Side. What this appears to be is ESPN seeking to find a home for and monetize the programming it acquired in its recent purchase of Fox Sports Regional networks.
Are you going to pay $4.99 a month to access that kind of programming but not the main ESPN feeds? To be able to watch regional college basketball but not Duke-North Carolina, or the NBA game of the night?
This is the kind of service that fits really well with ESPN's corporate owner. For the Disney Channel, this makes perfect sense. My 7-year-old doesn't care what's on Disney right now, she wants access to the Descendants or Liv & Maddie or Elena of Avalor. I'd pay $4.99 a month for that kind of on-demand access without caring if I see something live. But sports are different. What's live is all that matters. There's a definite hierarchy to programming. Paying $4.99 for thousands of hours of sports programming isn't appealing if I still need to pay for cable to access the games on ESPN (which, given the sports media hierarchy, are the most valuable ones).
This is ESPN trying to have it both ways. It's trying to add a kind-of ala carte service (which is interesting) but also maintain its connection to cable subscriptions. That's no real surprise – as Galen said on that episode of The Flip Side, carriage fees are ESPN's heroin. That $7 a month it gets from every cable bill is what built the network. It's going to hold on to them and rely on them as long as possible.
But it means this app – which had so much promise and potential and could have served as a beacon for ala carte, standalone programing – is just a way to maintain the economic status quo. It's a nod to the past rather than a bridge to the future.