by Spencer Aber
I. Introduction: The Basketball Scare
January 22, 2015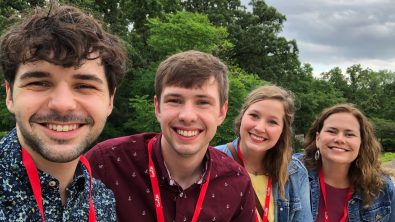 The Mooresville boy's freshman basketball team arrived at Southport for their 6 p.m. game. Parrish Fehrman, 14, put the Pioneers road uniform on and taped his raw fingertips together. He didn't know why they were raw. All Parrish knew was that he couldn't use the TouchID on his iPhone.
Parrish's chest was pounding like a drum. He didn't know what was wrong. He attempted to go from half court to the baseline for a layup. The pain worsened. Parrish tried another layup.
It wouldn't stop.
Parrish saw his mother, Stephanie, walking through Southport gym and stepped out of the layup line to see her.
"You need to take me to the hospital," Parrish said.
"Why," his mother answered.
"I think I'm having a heart attack," he told her.
II. Pre-Diagnosis
March 4, 2016
The pain wouldn't leave, not during the game and not during the drive home. Riding shotgun in his mother's Mini Cooper. Parrish tried putting himself in the fetal position. He tried taking deep breaths. He tried putting his feet up on the dashboard. Nothing worked.
"It was one of the worst experiences of my life," Parrish said. "I didn't know what was happening."
The pain worsened.
"Something is wrong, something is really wrong," he kept telling her.
What Parrish didn't know: His life was about to change forever.
The first stop? The pediatrician. They were told nothing was wrong. They returned a week later. Same thing. Nothing to dwell on.
His pediatrician decided to test his blood just to make sure. The next day Stephanie got a call.
"I am so sorry, but you need to get him to a hospital right now," they told her.
Parrish's school day was interrupted. A note arrived during the middle of his class; his mom was on her way to pick him up. Parrish got in the car and sensed something immediately wrong. His mom was panicking. Parrish kept asking questions about what was wrong, but all his mother knew was that she needed to get him to Riley Children's Hospital immediately.
That began weeks of blood testing. Parrish was tested for Hepatitis A, B and C. Negative. He was tested for Lou Gehrig's disease. Negative. He was tested for cancer. Negative. He was tested for AIDS. Negative.
"Was that really in the running?" Stephanie thought.
The doctors didn't know what Parrish had, but his mother was determined to find out. After the trip to Riley, the doctors finally suggested they go see a dermatologist, even though they didn't think it would help. Parrish's dad agreed, but Parrish had his doubts.
"What is it going to hurt?" he asked his mother.
Two days later, Parrish and his mother went to the dermatologist. They sat in the waiting room. Parrish's name was called. He took a seat and waited patiently for his doctor. The dermatologist came in with her assistant and looked at Parrish's hands. They exchanged an eye widening look that shook everyone in the room.
"We need to do a biopsy right away," the dermatologist said.
When those words were said, Stephanie broke down in tears.
"If you start crying, then I start crying and then everyone starts crying," Parrish said to his tearful mother. "That's not what we need right now."
Four days after that, Stephanie got a phone call from the dermatologist.
"Stephanie, Parrish is very ill," she remembers hearing. "I can't confirm the diagnosis, but I can tell you he's very ill."
III. The Diagnosis
March 12, 2015
The dermatologists booked Parrish an appointment at Riley Children's Hospital. Parrish and his mother arrived at the hospital on Thursday and three physicians and two residents immediately sent him to cardiology. The doctors had cleared their schedules.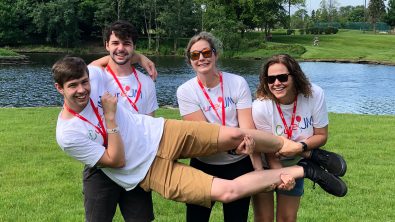 "When you have cardiologists, who have cleared their calendar to see you, I knew this wasn't good," Stephanie said.
When they finished with the cardiologists, they came back up and the doctors said pulmonology was waiting for Parrish too. Stephanie asked the doctors "Can you tell me what's going on?"
"We need to know if he needs to be admitted," the doctors responded. "We have to run these tests."
Finally, after five hours at the hospital, he got his diagnosis: Juvenile dermatomyositis. A disease that causes weak muscles, skin rash, fatigue and a fever. Only two to four children in a million in the United States are diagnosed with JM per year.
"It was awful news," Parrish said. "As bad as it was, it almost was the relief that made it more bearable."
"It's scary, but there was also relief to it that we knew we could put a name to it," Stephanie said.
The doctors advised the Fehrman's to not research the disease, but they did it anyways.
"I hated all of it," Parrish's big sister, Taylor, said after reading about the disease online.
After two months though of being left in the dark, Parrish could start fighting his disease. However, there was one problem: There's still no cure.
"Will he recover?" Stephanie asked the doctors.
"Never fully," they responded.
IV: Treatment
There were days Parrish couldn't get up from the couch without help. His muscles were too weak. His mother would have to pull him up to get him standing. She felt so bad for him that she stopped running her usual five miles a day.
"It felt unfair for me at 40-plus years old to be able to run five miles a day and he couldn't walk up the stairs," Stephanie said.
Parrish never fully grasped the news of his diagnosis until he began taking his medication. He was prescribed four different medications: Prednisone, Folic Acid, Methotrexate and IVIG.
"It made me sick to my stomach," Parrish said. "It really sucked."
Parrish took 50mg of Prednisone twice a day: three pills in the morning and three at night. It was a steroid that would help get Parrish's weight up because he was the skinniest, he'd ever been in his life: 6-foot-3 and 150 lbs.
"You could see every bone on my body," Parrish said.
Parrish's grandfather, aunts and uncles helped with the food part. His grandfather brought him pecan pie every three days, while his aunts and uncles dropped off candy, cookies and brownies.
Parrish's friend, Benny Gains, assisted at night when he couldn't sleep, making phone calls to Parrish almost every night.
"We would call each at nine o'clock at night and just talk until like 1 or 2AM just about anything," Benny said.
As for the Methotrexate, it was a self-injected shot that Parrish gave himself once a week that caused nausea.
"Every morning after I'd do it, I'd just be in the bathroom because I would think I'd throw up," Parrish said.
It got to the point where Parrish couldn't administer the injection to himself. He arranged for his mother to give him the shot in the middle of the night, so he'd sleep off the nausea.
"You'll do anything to help someone you care about," Stephanie said.
For his IVIG, Parrish went to an infusion center every other week. Each treatment was $65,000. Thank goodness he had insurance.
At first, Parrish had allergic reactions to the yellow liquid. It caused him to wheeze and his throat closed. The doctors gave him allergy medicine to prevent that and the whole infusion would take anywhere from 8-12 hours.
He mainly slept throughout that time, but also did homework, had family and friends come visit, ordered pizza and played his XBOX and PlayStation.
Parrish's life at school changed drastically, too. Not only did he fall behind because of treatment days, but no one really knew about his disease. Parrish only told two friends at school.
That led to people bullying Parrish about his disease. Dane Smith, a good friend of Parrish's now tried to touch his food, which was not supposed to be touched by anyone or else it would be compromised. Benny specifically was the one Parrish designated as the protector of his food.
"It was an honor," Benny said. "It meant the world to me."
In the summertime, Parrish's family wanted to travel, but they were limited in their options. The doctors wouldn't let them leave the United States. The Fehrman's were required to be within 30 miles of a Level 1 Trauma Center in case anything was wrong with Parrish. They took small trips to Door County, Wisconsin and weekend trips to Chicago. Parrish had to wear Sun Baum sunscreen anytime he was in the sun. He couldn't get a sunburn or else he'd flare. He even wore Coola bar clothing, which had SPF 55 ingrained in them.
After a year of treatment, Parrish's body started getting stronger. His weight was up, and his muscle mass was increasing. It was time to get back on the basketball court.
According to his mother, the doctors should've never cleared Parrish to play basketball. His muscles were too weak. Stephanie knew basketball was a bad idea for her son.
Bad was an understatement.
V: The Setback
March 13, 2016
Parrish was playing his second AAU game at Best Choice Fieldhouse in Fishers, Indiana. Four minutes left in the game and the other team had a fast break going the other way. Parrish sprinted back, hoping to make a defensive stand. The ball handler went up for a layup and Parrish came flying through the air to make a ridiculous chase down block. The crowd started going nuts as Parrish's team got the ball and went on offense.
But where was Parrish? He was on the deck. People started screaming and running away. The referee sprinted off to call 911.
Another mother had her eyes covered, while her 7-year-old boy was pale, and blood was draining from his face.
"It was surreal," Stephanie said, recalling the horrific event.
A nurse came running to Parrish's side along with his parents. He began to go into shock. Stephanie did heavy breathing with him to calm him down. His dad held his leg up.
Parrish's foot was completely turned backwards.
"It was terrifying," Taylor remembered from being sent the images.
"I wasn't sure he'd be able to walk again," Stephanie said.
An ambulance came to take Parrish to Riley Children's Hospital before he was transferred to Methodist Hospital. He had surgery three days later.
"This is for many players even in the NBA, this would be a career-ending injury," Parrish remembered the doctor saying.
VI: The Comeback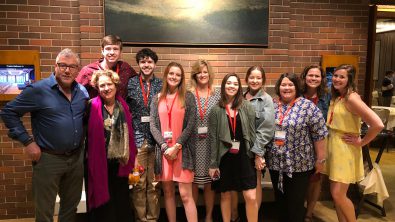 Parrish was in a wheelchair for three months and then had to learn to walk again. He was on a scooter, a boot, then crutches, followed by a cane. The doctors told Parrish he wouldn't be able to walk again until the end of December.
Parrish defied the odds and was running by Thanksgiving. After Parrish started running, he went back to the doctor in January hoping he could be cleared to play basketball again. His doctor recommended for him to never play basketball again, though.
But Parrish kept asking "Can you clear me?" The doctor answered, "I can clear you for activities, but I don't think you should ever play basketball again." "But can I?" Parrish asked.
The doctor cleared him, but he'd have to tape his ankle and wear a brace to play. If he broke his ankle again, it'd have to be fused.
Parrish and his mother walked out of the doctor's office and she immediately made Parrish repeat everything the doctor said about the risks and he did. As much as she didn't want Parrish to play basketball, she trusted his judgement.
While Parrish was able to return to the court by his junior year of high school in 2017, the JM was still present in his body. By that point, Parrish thought his progress was plateauing and a change needed to be made.
The doctors wanted Parrish to try an experimental drug, but his mother thought it was too dangerous. She suggested to the doctors about changing his diet, but they said it wouldn't matter. Stephanie went to the dietician anyway and they decided to put Parrish on a purist diet.
He cut out sugar, dairy, wheat, grains and processed foods. All he ate was fruit, meats and vegetables for the next year. His go-to meals were fruit salad, strawberries and blackberries.
Parrish took himself off the diet right before his high school graduation in 2018, but immediately went back on after his blood labs started dropping. On June 20, 2019, Parrish took himself off his last medication called Plaquenil because it was such a low dose and his blood labs were normal.
"That for me was remission," Parrish said.
Parrish called his mother that day. She cried. He called his sister. She cried. He told his dad in-person and he hugged him. Parrish's brother, Garrett, called him and congratulated him. Benny called him and was thrilled for his best friend.
"An enormous weight was lifted off my shoulders," Parrish said.
That same night the Fehrman's had a big family dinner. There was steak, potatoes, asparagus, salad and pecan pie for dessert.
Parrish got the confirmation from the doctors on October 13, 2019. From the day of Parrish's diagnosis, it took four and a half years for him to go into remission.
Since the time of his diagnosis, Parrish and his family have been very involved with the Cure JM Foundation. Parrish is in the kids Facebook group, while his mom is in the parents' group. The Fehrman's go to Cure JM conferences every year and Parrish has been a keynote speaker for three years.
Two years after the diagnosis, Garrett suggested that the family get tattoos. They're all different. Parrish has a big lion on his back. Taylor has one on her wrist. Stephanie has a heartbeat on her wrist and Garrett has one on his chest.
They all read the same thing: Cure JM.