By Jake Toppen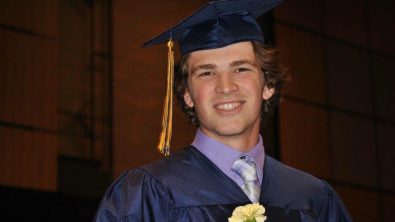 What began as a typical Tuesday swung in an instant.
I woke up the morning of Feb. 18, switched my phone off silent mode and set it on the sink before hopping in the shower. I had a radio show in a few hours, so I started racing through topics in my mind.
What does the NBA playoff race look like? Will Indiana make the NCAA tournament?
I hadn't been in the shower five minutes when my phone started buzzing. One text. Another. Another. Another.
They wouldn't stop.
I hopped out and grabbed my phone. There were 45 text messages to read.
It started with this one: "Mason."
Then this one: "Check Twitter."
I didn't need to read the rest. I knew.
I was just talking to him a few days ago … there's no way.
But I had to look. I opened Twitter. The first post I saw gave me the answer I didn't want.
The few seconds that followed paralyzed me with emotion.
"Rest in peace, Mason Thomas Kendall," it read.
He was just 22 years old.
***
It's been three months since Mason Kendall passed away from a rare auto-immune attack on his central nervous system.
He was a close friend of mine for 15 years. I still cry sometimes. I still have nightmares about it.
Mason wouldn't be too happy with me if he knew that, though. He'd probably laugh. Or say something to make me smile.
Quit being a little baby!
He played multiple sports growing up in South Bend —baseball, football, soccer, basketball. By high school, he was a cross-country runner in the fall, a baseball player in the spring.
During his freshman year at South Bend Riley High School, he met Madie Logsdon, another incoming freshman who ran for the women's cross-country team.
"I felt like he didn't want to run cross-country," she remembers. "I barely knew him at the time, but I knew he could be good."
The two started direct messaging each other on Facebook during their freshman year. The topic, of all things: cookies.
A bond formed, a bond that would last for over eight years. They ended up dating for six. And they weren't just boyfriend and girlfriend. They became best friends.
It started with those cookies. It's how Madie convinced Mason to stick with cross-country.
"We put so much salt in those cookies … they were so bad," Logsdon remembers.
But that was enough. He gave the sport a shot. And pretty soon, he was hooked.
"Once he got to know his teammates he loved running for the cross-country team," Logsdon said.
After developing his freshman and sophomore years, Mason broke out as a junior, becoming one of the top runners on the team.
I remember one specific Saturday morning in October of 2014. The team was at Ox Bow Park, preparing to race at the Northern Indiana Conference meet. It was 40 degrees outside, and the wind was howling. The grass still had its morning dew. Everyone was in hats and gloves.
I wondered: Why were all these guys so excited to run?
"Bro, it's not cold," Mason blurted out with a straight face.
"Really?" I replied.
"Nah it's cold as dirt," Mason said with a little grin.
He pulled his hands away from the handwarmers in his pockets, punched me on the shoulder and walked away chuckling.
I couldn't see his eyes, because whenever Mason laughed, they disappeared. His smile was so big it reached from ear-to-ear, and his laugh was contagious. I can still see it. Can still hear it.
I miss it.
The cold weather never stopped Mason from running. Nothing did.
"His junior season was magical for so many reasons," his former head coach, Chad Wetzel, recalls.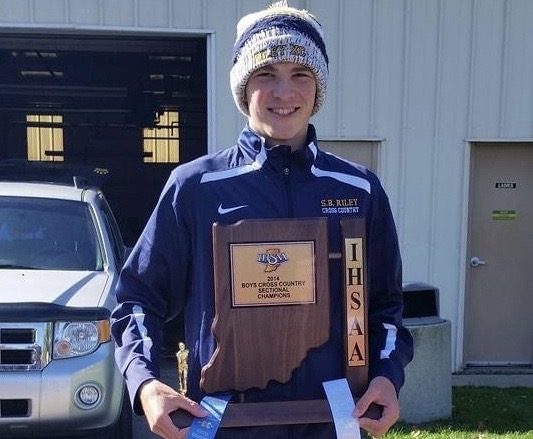 He took third overall on that chilly October morning, then finished third again in the sectional meet a few weeks later, helping Riley win the South Bend city, conference and sectional championships. Then came the semi-state meet, where only the top six teams would advance to the state finals.
Outside expectations? They were minimal. Riley had lost five of their top seven runners from the year before, and few expected the team to compete for a state finals berth.
Mason Kendall had other plans.
He ended up placing 20th out of 180 runners in a time of 16:35 that day.
Even better, Riley finished sixth. They were headed to state.
"Easily the most emotional moment I ever had with Mason," Kulczar remembers.
It's what they'd been working toward for three years.
The team ended up finishing 21st the following week.
The following summer Mason was elected team captain. And with that role came the spirit stick — which every captain eventually passes down once they graduate.
Unfortunately, Mason dealt with leg injuries for most of his senior year, but he fought through to remain the top performer for the Wildcats.
He finished second at the city meet, fifth at the sectional meet, ninth at the regional meet and 34th at semi-state.
After he graduated in June of 2016, it was his turn to pass down the spirit stick. He made the trip to the team's annual camping retreat the August before heading off to college at the University of Indianapolis.
He presented the spirit stick to the new captains that year, and when he did, speaking in front of the entire team, his emotions got the best of him. Mason fought back tears.
"He talked about how much the program meant to him," his coach remembers.
In the coming years, Riley cross-country plans to rename their Most Improved Person or Most Valuable Person awards. They want one of them to honor Mason Kendall.
"It wasn't about the impact our program had on Mason," said Wetzel. "It was the impact Mason had on our program."
***
Most of the time I was with Mason we were hooping in different locations. He ran cross-country and played baseball for Riley, but the sport he really loved playing with his friends was basketball.
From backyards to driveways, from schools to churches, from barns to parking lots, it didn't matter — as long as it had a rim, we were playing. A favorite spot was our friend Jeremiah's barn, which sat at the end of a snaking driveway in the middle of the woods.
Typical Indiana: playing basketball in a barn.
In high school, a group of eight or 10 of us would meet up and play whenever our schedules allowed. We would move all the cars parked in the barn to the west end. There were no lines on the court, so we adapted: we used creases and cracks in the concrete for our 3-point line. It wasn't perfect. We didn't care.
One rim and one basketball was all we needed to make a lifetime of memories.
It was 30 degrees the day after Thanksgiving his junior year, but we wanted to play. So we headed to the barn. We moved the cars to the west end. We swept the floor. We flipped on the space heater. We played.
We always talked smack, and sometimes it got heated. We lived for the competition.
Whenever he blocked a shot he would yell some choice words and get in my face.
You can't score on me! Don't come in the paint! Your shot is terrible!
Most of the time he would show off his smile and give a little chuckle after yelling at me.
After three hours of playing the day after Thanksgiving we called it a night. I remember as I walked out to my car, I heard someone sneaking up behind me. I looked over my shoulder. It was Mason.
He slapped me on the back of the neck and continued to run up the hill to his car.
Good games tonight bro. It's all love. See you at school on Monday!
I wish I could still talk a little smack. I wish I could have one more time at the barn with him.
***
It's been three months since his passing. There have been good days and bad.
The morning of Feb. 18th will always live with me. I'll never forget where I was and how I felt, paralyzed with emotion from head to toe.
I play back conversations in my head. What would Mason say to me today?
Don't let one bad day ruin the last 15 years of memories we made together.
It's easier to remember all the good times we had. I'm trying to be tough like he was.
I'll hold on to those memories — until we make some more.
Whenever it's a sunny day, I'll sit on my back porch, like we used to do in the summer of 2018. Most of the time, we'd talk about the NBA. We'd argue over stupid stuff. Jordan or Lebron? Both of us loved talking about who was better. He sided with LeBron. I sided with Jordan.
Or the Gators. We both loved the Florida Gators despite growing up in Notre Dame country.
But my favorite topic: life. He'd always ask me how school was, how my family was doing, and when I was free to hoop.
Those conversations were the best, the ones I'll carry with me forever.
I'll never forget watching him run on a cold Saturday morning, throw pitches from the mound in late April, or the way he'd talk smack after blocking a shot during a pickup game at the barn.
I can still see that, still feel that.
I know that's what Mason's doing. That's what makes me smile.