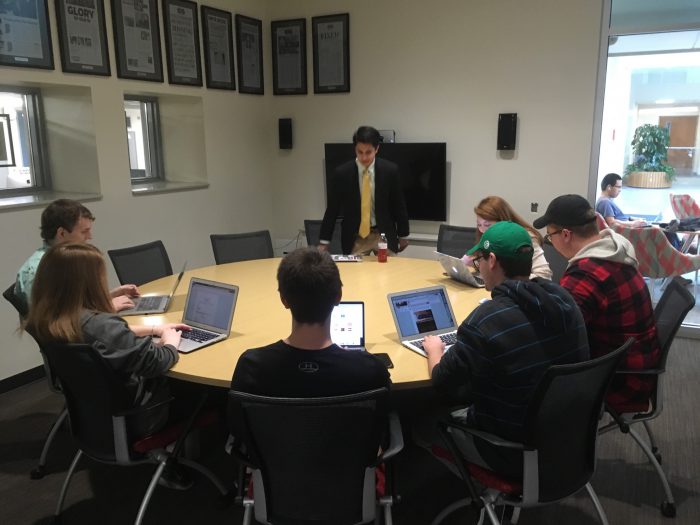 written by Tim Schoch
BLOOMINGTON, Ind. — Indiana University is a basketball school. And a soccer school. And a water polo school. But at the Indiana Daily Student's Sports Desk, where 17 reporters cover 17 different sports, it's all part of one team.
The Media School's Franklin Hall is their stadium, and at its heart is the IDS newsroom. When you walk in, you are thrust into organized chaos centered on a long aisle of tables strewn with paper, computers, phones, and cheerful, tireless students. The only distinction between the sports desk and other desks are folded paper signs and a stray baseball glove.
On the morning of Valentine's Day, the newsroom is relatively empty. Par for the course for 10:15 AM on a Wednesday. But Michael Ramirez, a sophomore sports editor who also covers the men's soccer beat and writes the men's basketball column, is at his desk sporting a jacket and tie. IU men's basketball has a home game against Illinois at 8:30 PM, and he'll be covering it.
At 10:45 AM, Ramirez represents the Sports Desk at a round table meeting of IDS student editors where they coordinate upcoming story topics and schedules. These meetings aren't glamorous, but they provide practical experience that can make a group of 20-year olds seem like a professional newsroom, in which many of them will be working in a year or two.
Despite the egalitarian atmosphere of the IDS and the Sports Desk, there's no denying the prestige of covering IU men's basketball, the recaps, sidebars, and columns of which showcase the most experienced reporters. And much like IU's tradition of success in basketball supports the athletics program as a whole, the Sports Desk, which fields the largest group of reporters in the newsroom, drives much of the IDS traffic.
"We're kind of the breadwinners for the paper," says Ramirez. "We get the most clicks and we produce, I think, the most content at the newspaper."
Coverage and Assignments
The popularity of Big Ten athletics, IU men's basketball in particular, draws plenty of eyes to the IDS, but Ramirez notes that the depth and breadth of the Sports Desk's coverage also contribute to its success.
"We do have a lot of reporters and it's good because we can get more sports out there to the people who are interested."
Prior to each semester, the two upcoming sports editors will assign each sports beat based on a pool of applicants, most of whom this semester are new to the IDS. The experienced students will get the bigger beats, so while most applicants ask for the baseball beat in the spring, many will end up assigned to sports they've never covered before.
Ramirez has also worked for WIUX, IU's student radio station, but he's reported for the IDS all four semesters, working his way through smaller beats to become the IDS's youngest men's basketball columnist.
"I don't really know what I want to do with sports media yet," Ramirez says despite his breadth of experience. "I'm just kind of doing everything right now to prepare myself the best that I can for when I do apply for jobs after college."
Coverage of the Illinois game on Valentine's Day runs through Ramirez and Dylan Wallace, the second of two sports editors. Wallace, also a sophomore, covers the women's basketball and volleyball beats. By Wednesday morning, they've already published a preview and will have three reporters covering the game who will produce a recap, a sidebar, and a column in quick succession when it finishes.
The editors will meet with reporters to go over stories throughout the day, most of which will go through a ringer of proofing, editing, and revision that also involve professional management staff. Exceptions to that process include the football, basketball, and baseball beats, which have a quicker turnaround to meet the demands of the modern sports media landscape.
With bigger beats that attract a larger audience, like IU men's basketball, the deadline is ASAP, and the editing process for a story like Ramirez writes gets looked over by Wallace and marched out the virtual door. A game at 8:30pm will often keep Ramirez busy until midnight, and Wallace in the newsroom until 11:00pm.  So while athletes head to the locker room and spectators head home, the IDS Sports Desk is in full swing. Tough hours for Valentine's Day.
But even the Sports Desk doesn't stop for IU men's basketball.
Not just Basketball
"We don't prioritize the big sports over the small sports," Wallace says. "We still give them the same amount of stories they have to write up."
To put that into perspective, a golf story was featured on the front page of the IDS print edition last week in the heart of basketball season. It's a testament to the landscape of opportunities in sports media and to the creative efforts of students making the most of smaller beats.
"If you don't think we'll approve something, who cares," Wallace says in support of his reporters' independent efforts to find interesting stories. "Put it in the story anyway and maybe it will work."
It worked for Stefan Krajisnik's men's golf feature on senior Brendon Doyle. Wallace, who was more interested in broadcasting than writing for the IDS when he came to IU, found himself in a similar situation his freshman year when legendary women's tennis coach, Lin Loring, announced his retirement. He never intended to cover a tennis beat, and three stories later his writing was on the front page of a Big Ten college newspaper.
Even when you don't get a front page spread, the experience of covering a Big Ten sport can be accomplishment enough. Cameron Drummond, a sophomore social media editor who also reports for football and baseball, covered Ohio State at home for his first assignment on the IU football beat.
"My story from that game was absolute garbage," Drummond says. "But it was a great experience—just looking around and seeing the people you're next to in the press room and being like, 'Oh, there's someone there from ESPN. Oh, there's Kirk Herbstreit on the field. Oh, there's Pat Forde right next to me in the press room.' It's just a lot of fun going through the actual experience, and also you just kind of take things for granted like that sometimes."
During blowouts, rain delays, and five-hour games trapped in the press room, Drummond likes to remind himself that he's covering Big Ten football as a sophomore. "That's an experience you can't get many other places."
Like Ramirez and Wallace, Drummond has worked his way through covering new sports to earn a role as an editor. Outside of IU he's also contributed to England-based soccer blogs and was a digital content intern for FC Dallas this past summer maintaining the soccer team's website, graphics, and writing underneath their chief editor.
"After being on the news side of it for so long, I like being able to see the other side. You know, the evil side," Drummond says of experiencing the daily grind of behind-the-scenes production that goes into sports media outlets.
The editing life
Drummond now manages social media for the Sports Desk in addition to covering his beats. For the Illinois game, he'll coordinate pre-game posts, promote coverage leading up to the game, live-tweet important details of the game, and retweet IDS reporters, who use their own twitter handles to develop their social media presence and generate traffic for the IDS.
Though Drummond admits that nothing can replace the rush of covering a big game, he finds his role as editor to more rewarding than just covering a beat.
"You can see the growth of writers underneath you and see the tangible results of working with someone over the course of a whole semester and having them go from a lower standard of writing to a higher standard of writing, or just working with someone on a long-term feature piece and seeing how well it turns out and how many people read it."
Indiana against Illinois, even at Assembly Hall, is not considered a big game to the IDS Sports Desk, especially for Ramirez.
"It's pretty surreal at first," he says of covering IU men's basketball, "and then after a while you kind of realize that it's just another sport."
The Sports Desk editors have covered the small sports and the big. They know the value that can come from being creative in finding stories and in seizing opportunities, but they also understand how much goes on behind the scenes to get those stories published.
"There's a lot of people that work hard and do good things behind the scenes to allow you to have that moment," Drummond says of covering a Big Ten football game for the first time.
The IDS creates an environment for students to publish their work and get newsroom experience as reporters, editors, and social media managers, but the Sports Desk puts reporters in Big Ten press rooms. If you're like most of the IDS Sports Desk and are aiming to enter the sports media industry after graduation, that's a room in which you want to be.
When Ramirez covered the soccer beat last semester for the first time, he didn't expect IU to make a championship run, and when Wallace was assigned the tennis beat his freshman year no one knew the tennis coach would retire. Those events provided opportunities, but it was the students who made the most of them, turning small beats into sports editor positions.
Covering a big beat for a Big Ten sport at a school with a successful athletics tradition like Indiana's certainly helps with producing content people want to read, but it takes work ethic to find the stories that bring people back. Work ethic like Drummond's, who wrote his first IDS story the day he moved to Bloomington before classes even started his freshman year.
What the IDS Sports Desk hopes people understand is that work ethic doesn't mean relying on numbers or press releases to write a story, and that readers aren't getting "line, quote, line quote, line, quote" in their recaps.
"I really hope people are creative with their writing and they have a voice in their writing," says Wallace of new reporters. It helps him, the IDS, and the experience of the reporters themselves to pursue stories, even in a recap, "We always tell them, 'Don't give us a box score,'"
There's no substitute for putting in the work with sports media, but the IDS Sports Desk shows that you don't need to be covering a popular sport to produce quality content. Most of the time you just need some creativity, and sometimes a little luck.