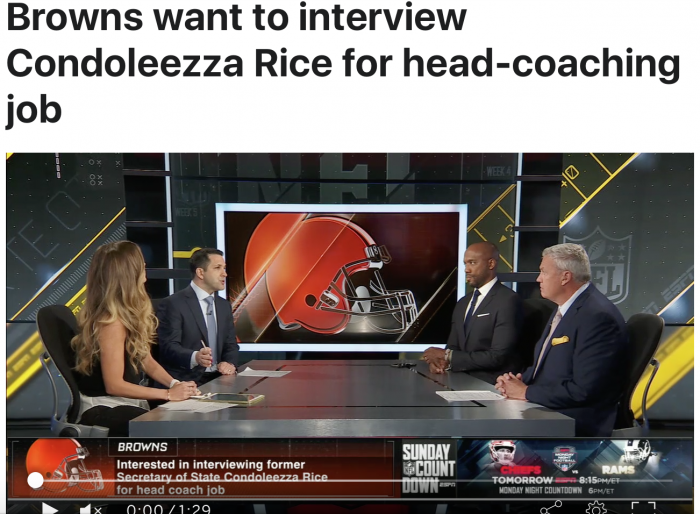 If you're online this NFL Sunday, you've no doubt seen the story from Adam Schefter.
Browns interested in interviewing Condoleezza Rice for head coaching job, source tells ESPN.https://t.co/cgxCUgbF8j

— Adam Schefter (@AdamSchefter) November 18, 2018
I'm not about to cast aspersions on Schefter's reporting. His reputation is well deserved and well earned. If he's reporting this, there's no reason to doubt it's true.
But before we get too far into hyperdrive on this story, let's focus on a few important words that Schefter's using. From the tweet: Browns interested in Rice. From the ESPN story:
The Browns would like to interview former Secretary of State Condoleezza Rice for their head-coaching job, a league source tells ESPN…. A potential interview hardly means the Browns will hire Rice, but they are interested in talking to her about the job and seeing what she could bring to the position and the organization.
Again, there's no reason to believe the reporting isn't spot on.
But here's the thing. I would like to be best friends with Lin-Manuel Miranda. I'm interested in doing an Office/Parks& Rec podcast with Shea Serrano. I'm interested in winning the lottery. To paraphrase Bender, I can be interested in anything you want.
Interest is just that. Interest. There's no context to this story yet. There's no word on whether or not Rice wants to be a head coach. There's no real reporting on why the Browns would be interested in the former secretary of state as their coach yet.
Right now, this story has no context. It's like those political stories about President Trump "considering" doing something he legally can't do.
Interest is fine. And potentially newsworthy.
But without context, interest is just … interest. And you can be interested in anything you want.