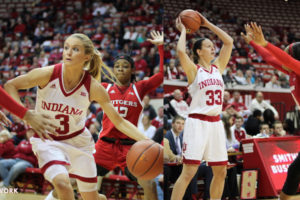 Spoiler alert – there is no problem with women's sports.
There is nothing wrong with women's sports. They are not a puzzle to be solved. On many levels throughout the country and the world, they are doing well.
The coverage of women's sports? Well, that's always an issue to discuss.
This all started a few weeks ago because the UConn women's team is insanely good and won its first-round NCAA Tournament game by 88 points. This led a USA Today writer to opine that this was bad for women's basketball, which in turn led a Forbes writer to say the real problem for women's sports was the lack of women in sports media, which in turn led The Big Lead to point out that the real problem was that fewer people care about women's sports(you will notice that all of these columns were written by men), which in turn led LaChina Robinson to create and sell a t-shirt promoting women's sports.
And on and on and on. It's the same old argument every few years. And it obscures some of the bigger issues facing the coverage of women's sports.
Most news organization's analytics probably do show that fewer people read stories about women's sports than men's sports. But that just brings about the endless chicken-egg debate — you don't cover them because no one cares, but no one cares because there's no coverage to drum up interest. It also brings up the economic chicken-and-egg — part of of a news organization's mission is to tell interesting stories and cover things readers didn't know about, but if those stories don't generate reader interest, how can that news organization justify spending limited resources on covering them?
(Aside 1: Another debate for another time is that news organizations might be better served in focusing their resources on covering topics with a small but dedicated reader base instead of always chasing large audiences at scale.)
(Aside 2: My friend Dr. Molly Yanity, who thinks circles around me on this topic, pointed out this week that ESPN created a market for televised poker, so it could probably create a market for women's sports if it really wanted to.)
There are too few women in sports media. That's a fact. We as an industry need to be better about this. Period, point blank. We need to be better about all forms of diversity. But it's wrong to think that increasing the number of women in sports media will automatically lead to more coverage of women's sports. Are we talking about hiring women in positions of power? Are they sports editors, assignment editors? Are they able make the actual decision to send writers and journalist out to cover women's sports? Are they putting together budgets that allow of that type of coverage? Are they standing up to editors and publishers who look at the analytics mentioned above and question the allocation of resources?
If they are, great. But if they're not, if they are reporters and writers and anchors and don't have much say, nothing is going to change.
The fact is, too often, women's sports is treated in mainstream sports media as a curiosity. A sideshow. A heartwarming tale, an inspirational story, a talking point, a way to prove oneself as being woke by pointing out that Harvard, not UMBC was the first 16 seed to win a game or that Serena Williams is the best tennis player of all time. Lord knows I am guilty of that. I'm also guilty of only paying attention to women's sports coverage when some fool writes the semi-annual dumbass take instead of sharing good stories about female athletes and by female writers throughout the year. That's something I've got to get better at. That, not being the "well, actually" Twitter feminist, is how we improve things.
But maybe the biggest problem facing women's sports and women's sports coverage is the perception that there's a problem at all. Women's sports are always and forever being covered in comparison to men's sports, as something that needs a breakthrough, rather than something accepted on their own terms for what they are.