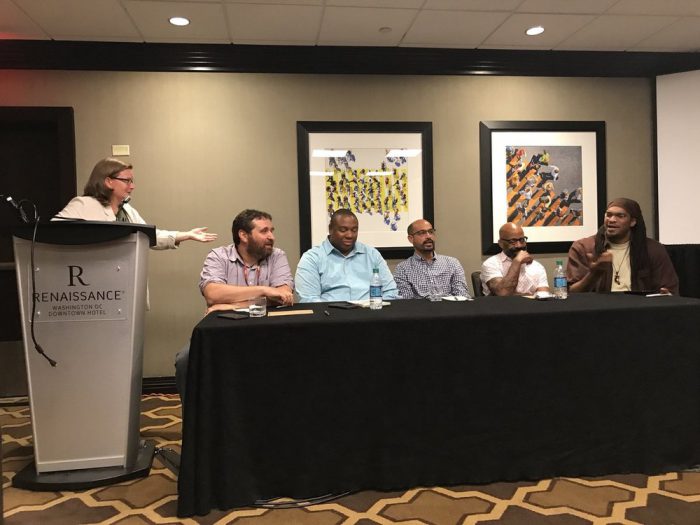 How should the press cover athlete activists? What responsibility do sports journalists have when they no longer stick to sports?
Those questions were among those discussed at a wonderful panel at the AEJMC Conference in Washington, D.C. last week. The panel was co-sponsored by the Sports Communication Interest Group (of which I am co-research chair) and the Minorities and Communication division, was led by my good friend Dr. Molly Yanity and featured Dr. Michael Mirer, Dr. Abe Khan, Kevin Blackistone, Jerry Brewer and Evan Thomas. The panel discussion can be seen here:
https://www.youtube.com/watch?v=akEd-6Us6WI
One of the best discussions was between Thomas and Brewer over the role the press plays in covering athlete activism. Brewer pointed out that journalists are often faced with pragmatic concerns – the daily beat demands, shrinking staffs, earlier deadlines – that prevent them from giving these stories the kinds of nuanced coverage they deserved. Thomas, the author of a wonderful book featuring interviews with 50 athlete activists, countered that journalists have a responsibility to cover them correctly and that their writing frames the issues for the public.
During the discussion, one question kept coming into my head.
Where are the editors?
It's echoes a point I heard Mark Bowden make in a talk at the Poynter Institute many years ago. I feel like a lot of journalists want to do stories like this. A lot of them want to be able to go in depth on bigger issues. They want to build trust and relationships with the players they cover and tell their stories in respectful ways.
But journalists are also dealing within a system. They are dealing with routines and pressures brought on by institutionalized economic factors in a structure where certain behaviors are incentivized. They are answering questions from editors who have their own bosses and are working within the same systemic structure.
Having these discussions with journalists and columnists and academics is important, of course. But I can't help but believe that the most valuable audience for this would be editors — the people who make coverage decisions and write the headlines and set the tones for their respective sports sections.